It's not Christmas without tamales.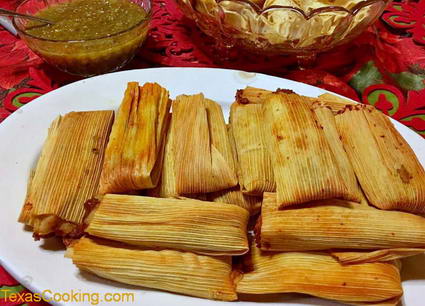 During the holiday season in December, Texas families of Hispanic heritage often celebrate by gathering to make tamales.
Making tamales for the Christmas holidays is a tradition that has been passed down for decades by Texans such as the Molina family of Abilene, which is of Mexican heritage. "We always have tamales for Christmas; if we don't have them, it's not Christmas," said Irene Molina, who is in charge of cooking meals for children at an Abilene daycare center. Molina said she can still remember her grandmother grinding corn by hand with a metate, or stone corn grinder, to make masa for corn tortillas and tamales.
The Spanish word for "dough," masa is made with sun- or fire-dried corn kernels that have been cooked in limewater. After being cooked, then soaked in the limewater overnight, the wet corn is ground into masa, according to The New Food Lover's Companion. Masa harina, available in many supermarkets across the state, is flour made from dried masa.
These days, Molina and others like her buy masa flour at the supermarket to make their tamales, but the tamale-making process is still time consuming. "It's a very long process and there's a lot of dirty pots and pans by the time you get done," Molina said with a laugh. Each December, she and her husband, John, make 30 to 40 dozen tamales to share with family and friends.
"On Christmas Eve, we go to midnight mass and friends from our church come over to our house afterwards and they have to have a tamale and a cup of hot coffee," Molina said.
The Molina family tamale-making process begins one evening before Christmas when they simmer a 10-pound pork roast in a pot of water for six hours - until the meat is so tender it almost falls apart. The meat is shredded and seasoned with dried, red "pequin" chili peppers, garlic, comino and other spices to make the filling that will be rolled inside the tamales the next day. "The more spices you have in your tamales, the better they will taste," said Molina, who won second place in Abilene's Festival of the America's tamale-making contest in September. The broth from the pork roast is set aside to use in mixing the masa dough.
The next morning, beginning about 6 a.m., is tamale-making day. The Molinas assemble the tamales by spreading a layer of masa dough on a softened corn husk, then adding a layer of pork meat filling. The outside of the tamale is wrapped in a softened corn husk, then placed in a big pot to be steamed for about 30 to 45 minutes before serving. Irene Molina said her tamales keep well in the freezer and can be easily reheated when company drops by.
Although she served as an assistant while watching her mother and grandmother make tamales for many years, Molina said she never really made them by herself until her mother died in the 1980s. Now she carries on the family tamale-making tradition and hopes her children and grandchildren will learn from her so they can carry their culinary heritage through the 21st century.
The custom of making tamales originated with the native American people who lived in Texas and Mexico and interacted with Spanish explorers, sharing their cuisines, according to the Handbook of Texas Online, a joint project of the General Libraries at the University of Texas at Austin and the Texas State Historical Association. Like most Tex-Mex corn-based dishes, the name tamale was derived from the Nahuatl language of the Aztec people who lived in Texas during the time of the Spanish exploration.
Even a century ago, tamale-making was such a time-intensive process that tamales were considered a special occasion dish, made only for celebrations and solemn offerings. Today, Christmas, Easter and saints' days are often honored with tamales, according to chef Zarela Martinez, author of Food From My Heart and host of the PBS television cooking show La Cocina Veracruzana. Well worth the time and effort, every tamale is a delicious gift waiting to be unwrapped, she said in a news release.
Basic Tamale Dough
Courtesy of Maseca Corn Flour>
4-½ cups Maseca corn flour

4-5 cups warm chicken broth, plus more as needed

1 lb. lard or shortening

2-½ tablespoons salt
Place the corn flour in a large bowl and add 4 cups warm broth. Beat with a wooden spoon or mix with your hands until dough is smooth. Use a little more broth if necessary, but the mixture should not be loose.
Beat the lard or shortening in a large bowl with an electric mixer on medium speed about 3 minutes, until fluffy. Begin adding the masa dough mixture, a handful at a time. Scrape down the sides of the bowl with a rubber spatula as necessary. Alternatively, beat in the tamale mixture using your bare hand as a whipping and folding tool. If the mixture becomes too stiff to beat, add up to 1 cup of tepid chicken or pork broth, a little at a time. When done, the mixture should be very light and delicate, the texture of buttercream frosting. Beat in the salt.
Filling and Steaming Corn Husk Tamales
Courtesy Maseca Corn Flour
Filling the Tamales. Place the dried corn husks in a large bowl and cover with boiling water. Let soak 30 minutes to one hour. Drain and select as many as you can of the larger pieces, but be careful not to open the crinkled leaves of the core that are full of corn silk. With a spoon, spread 1/4 to 1/3 cup of dough mixture across the lower (wide) end of the husk, covering it from side to side and extending it about halfway up toward the narrow tip. For chicken, beef or other filling, place about 1 heaping tablespoon of filling in the center of the Maseca mixture. Fold the left third over to the center and then fold the right side over it, then fold up the narrow end even with the wide end so the tamale is folded roughly in half crosswise. Place the tamales on a baking sheet until ready to steam.
Steaming the Tamales. Arrange the tamales in a steamer, open ends facing up. Place some of the unused corn husks (and/or a wrung-out wet tea towel) over the tamales to help absorb steam. Pour boiling water into the bottom of the steamer to a depth of at least 1 inch. Cover tightly and bring quickly to a full boil over high heat. Reduce the heat to medium-low to maintain gentle bubbling. Cook for about 1 hour or until husks pull away from filling. Replenish boiling water as needed. Let the tamales stand 10 minutes before serving.