There's no need to feel guilty when eating Tex-Mex.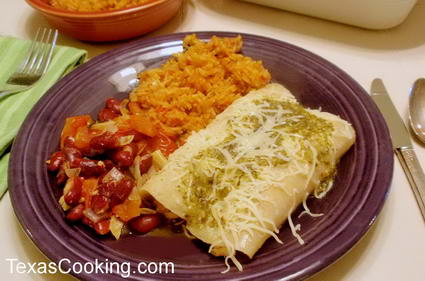 Are you on a diet? Low Carb? Low Fat? Low Sugar? Well, if you're cookin' up your favorite Tex-Mex meal for dinner tonight, you may just be following that diet you're on without even knowing it.
Recently, I went on a calorie increasing, low fat, high protein, zero sugar and complex-carbs program and discovered that many of my favorite Tex-Mex foods were not only allowed, but quite healthy and encouraged. In fact, this program said that eating Tex-Mex either at home or in a restaurant offered better choices over eating at Italian, homestyle or, in some cases, Asian restaurants. Also, I prefer to call it a "program" rather than a "diet" because of the negative connotations involved with the word "diet".
In Mexican cuisine, for example, you will find a great selection of lean proteins, complex carbohydrates, and fibrous vegetables. Choosing corn tortillas over flour tortillas is a great way to begin. Flour tortillas are made with enriched (processed) white flour, which turns into sugar, which turns into fat in your body and is regarded as "empty carbs with no nutritional value". Corn tortillas are made with a starchy carbohydrate, corn, which is a natural and unrefined food.
Now, without getting too technical, and I know how confusing all the different opinions in this area can be, common sense can still play a role when making better food choices. Proteins are essential for growth, maintenance and endurance and for increasing your body's metabolic rate. Protein strengthens your immune system and helps regulate your body's water balance. Lean, fibrous vegetables are also to be included in every meal. They provide fiber and minerals. Starchy carbohydrates, because of their complex nature (chains of dozens of glucose molecules linked together) require more energy to be digested, absorbed and utilized by the body. This helps to sustain energy levels. This is why, at every meal, combining a low fat protein, a fibrous vegetable and a complex carbohydrate is necessary for optimum heath, sustaining energy levels and, usually as a bonus, becoming leaner in general.
Want some dining examples? Choose white-meat-only chicken fajitas over beef fajitas, and make sure they are grilled, preferably without any oil. Choose Charro beans or Black beans over refried beans. Eat them with a salad and some zucchini, broccoli, or oven-baked potatoes.
Cook a delicious fish taco at home with the freshest talapia, salmon or catfish you can find at your grocery store. Add a bit of purple cabbage, your favorite red or green salsa (no sugar added) and serve it up in a corn tortilla. Don't forget the salad and beans on the side.
Spicy, grilled shrimp with Tex-Mex flavors is another good option. Serve it with beans topped with cilantro and a fresh fajitas on the side. Oven-roasted potatoes are better than white rice. Just coat them in olive oil and add some paprika before baking them. Even enchiladas can fit into a healthy diet if they're made with white chicken or ground turkey and a sugar-free salsa.
Have I mentioned breakfast tacos?
No need to omit these from your diet if you're trying to eat low fat. Whip up egg whites only (or, if you really need a bit of the yolk, do two egg whites to one egg yolk and you won't even notice the difference) and sauté some low fat turkey sausage, add some hot sauce and, once again, pour inside that corn tortilla, and you've got a very healthy breakfast that won't leave you feeling sluggish like a flour tortilla might. If you need more flavor and fillings in your taco, add some beans or potatoes. I recommend you skip the cheese, sour cream and guacamole if you can because these ingredients are very high in fat. There are low fat cheeses available out there if you're a savvy grocery shopper and even the veggie cheeses available on the market will give you the cheese flavor you may be missing.
One last thing, don't eat the fried corn chips! Yes, they're made of corn, a good carb, but they are fried. And fried anything is a no-no if eating healthier is your goal. A friend once told me that every time he went out to dinner with a certain couple, they brought their own baked corn tortilla chips to the restaurant to eat! Maybe if we all did that the restaurants would eventually catch on and offer two types of tortilla chips, fried and baked. I purchase baked Guiltless Gourmet chips myself and I find them to be just fine. Mostly, its habit that I sit there and eat one after the other after the other after the other. Eating baked chips will leave you feeling less guilty and bloated and they happen to taste just fine.
Good luck and remember there's no need to feel guilty when eating Tex-Mex if you just make the right choices.
Perfectly Healthy Roasted Poblano & Chicken Enchiladas with Tomatillo Salsa
Serve with a spinach salad and charro beans topped with fresh cilantro.
2 poblano chiles

2 tablespoons olive oil

1 white onion, sliced

2 cups shredded, ready to eat, roasted, skinned, boned chicken breasts (about 2 breasts)

1 teaspoon ground cumin

Salt and pepper

4 8-inch corn tortillas
Charbroil chiles in oven and peel. Slice into thin strips.
Sauté onion in olive oil on low for about 7 minutes until soft but not browned. Season with cumin, salt & pepper and add chicken and chilies, mix well and set aside.
Dip each tortilla in the tomatillo salsa (recipe follows) until coated on both sides. Fill tortilla with one-fourth of the mixture, roll and place in casserole dish. Continue until all tortillas are filled with the mixture. Pour remaining tomatillo salsa over the tortillas and bake in 300-degree oven for 10 minutes. Do not overcook so tortillas and chicken do not dry out.
Kitchen tools you'll need
Tomatillo Salsa (Salsa Verde)
Making a good tomatillo sauce is easy!
1 pound tomatillos, husks removed, rinsed, coarsely chopped

1/2 cup cilantro leaves

2 cloves garlic, roughly chopped

2 tablespoons diced onion

Salt
Place tomatillos in a saucepan and barely cover with water. Bring to a boil, then simmer until soft - about 10 minutes.
Place half of the tomatillos in a blender jar. Add the cilantro, garlic, and onion. Blend until smooth. Add the remaining tomatillos, and pulse a few times, just enough to break up any larger pieces. Return sauce to the pan and cook for another 10 minutes. Season with salt.
Charro Beans
Tired on pinto beans? Try these.
1 can red beans

1/2 white onion

2 ripe tomatoes

1 clove garlic

1/2 cup chopped cilantro
Cut onion and tomatoes into medium sized dice. Sauté onions for 5 minutes in olive oil. Add garlic and cook another 2 minutes. Drain beans and add to pan, mixing well. Add tomatoes, mix and remove from heat. Once removed, add chopped cilantro and serve. (If you want more liquid in your beans you may add a bit of chicken broth and simmer before mixing in the tomatoes.) Serves three.
Kitchen tools you'll need