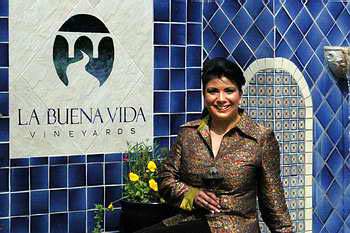 While the old saying about everything being bigger in Texas is generally true, it's also true that some big surprises come in small packages.
Take the La Bodega Winery for example. Tucked inside the Dallas/Fort Worth (D/FW) Airport, the entire winery takes up a scant 435 square feet. That's spacious for a living room, but it's pretty cramped for a winery turning out 2,000 cases of a variety of wines every year.
And while owner Gina Puente-Brancato is happy to be in the wine business, it wasn't her first choice.
When Puente-Brancato joined the family business in 1991, her father was operating three newsstand/gift shops at D/FW. One of the locations was being underutilized and Puente-Brancato began looking for a way to increase its volume to offset sky high airport space rental rates.
"After looking at the demographics of an airport traveler and a wine consumer, and kicking the tires on some other ideas, we came up with this concept of having a winery right in the airport. We opened La Bodega in August 1995." While some wineries are months or years on the drawing board, Puente-Brancato laughs at the evolution of La Bodega. "We took part of my newsstand and part of a United Airlines utility closet and turned it into a winery."
The winery's birth was a combination of fortunate timing and a geographic coincidence.
"I ran across a group of investors here in Grapevine who wanted to create a vineyard and a winery here. At the same time the mayor and the convention bureau wanted to identify Grapevine as the future wine capitol of Texas. They lobbied Austin to give wineries locating in Grapevine certain incentives. Back in '94-'95 it was a real big deal. This was the only place in Texas where you could sell wine by the taste, by the glass and by the bottle to-go as a winery.
"That was when I figured out that the terminals at D/FW are actually in Grapevine. A subset of that group of investors interested in opening a winery joined with me to open La Bodega inside the airport."
The family business has thrived over the years. Puente-Brancato bought out her winery partners in 1997 and now has 18 businesses in the airport including newsstands, restaurants and currency exchanges. Despite the growth of the family business, Puente-Brancato has still found time to open a second La Bodega inside the airport. She's become so enamored with the wine business she even ventured outside D/FW to purchase La Buena Vida Vineyard in Grapevine in January of 2006.
Dr. Bobby Smith, who sold Puente-Brancato his Grapevine location, still owns the La Buena Vida location in Springtown and remains the primary winemaker for the winery. Puente-Brancato also works with Paul Bonarrigo of Messina Hof Winery in Bryan to produce a line of wines under the La Buena Vida banner.
"Dr. Bobby makes the wine in Springtown and we bring into our tasting room in Grapevine," explains Puente-Brancato. "We also have a couple of other labels under the La Buena Vida name. One is called Springtown and the other is Walnut Creek."
About 80 percent of the wine carried at La Bodega is produced in Texas. The other 20 percent is from boutique wineries around the world. Puente-Brancato intends to do the same thing at La Buena Vida only with a heavier Texas flavor. "We'll probably have about 90 to 95 percent Texas wines at La Buena Vida. We want to carry just a sampling of international wines that compare and contrast with ours."
Puente-Brancato describes the vineyard at La Buena Vida as more show and tell than anything else. "The whole winery is only 1.8 acres so we don't have much room for vines. It's only a couple of rows. We're able to give visitors an idea of what a vineyard looks like and we're also trying out some different grape varieties. Right now it's mostly Spanish grapes but we're probably going to pull some of those out and try some different things."
La Buena Vida Wines
A limited vineyard doesn't mean a limited selection at La Buena Vida. The winery produces merlot, cabernet sauvignon, chardonnay and reisling along with a variety of blends including sweet reds and sweet whites under the labels Sweet Ruby and Sweet Amber. "If there's one place where we really put ourselves forward," Puente-Brancato adds, "I'd say it's our ports. Dr. Bobby has been a port producer for more than 30 years and I'd put our ports up against anything from Portugal and stand pretty tall."
The winery, located in the historic district of Grapevine, has undergone a significant facelift in the last 12 months. The main building was at one time a college and then a church. It was converted to a winery in 1994 when Smith purchased it. Plans include an arched aquaduct along one side of the building which will incorporate a series of waterfalls.
"Water is kind of a symbol of the good life," says Puente-Brancato. "And since that's what La Buena Vida means, we thought a series of waterfalls would express that."
La Buena Vida Winery
CLOSED
In addition to its tasting room and gift shop, La Buena Vida offers wine appreciation classes for consumers and is even planning a class for food service professionals.
"There's not a month that goes by that I don't go into a restaurant and the server, bless their heart, they're doing their best, but they just don't know a lot about wine or how to serve it.
"The restaurants are leaving money on the table and the consumers are not having the best wine experience possible. We think we can help everyone in that situation by training the restaurant employees on how to describe and present wines and how to pair them with food and make the consumer comfortable."
Just be sure your seatbacks and tray tables are in their fully upright and locked positions.
Pork with kumquats
1 lb Lean pork, well trimmed of all visible fat and cut -into 1" cubes

2 tb Peanut oil, divided use

1 c Chopped onion

6 Whole kumquats, seeds removed and finely chopped 3/4 c Water

2 t Soy sauce

1 t Cornstarch

1 t Lemon juice

1 tb Honey

Freshly ground black pepper to taste
Preparation:
Heat empty wok for a minute or two, add 1 tablespoon of the peanut oil and heat until oil is hot but not smoking.
Add pork and stir-fry until no longer pink, about 3 minutes.
Add remaining tablespoon of peanut oil to wok along with onions; stir-fry 2 minutes, or until onions are softened but not browned.
Meanwhile, combine water, soy sauce and cornstarch; set aside.
Add chopped kumquats to onions, return pork to wok and stir in lemon juice and honey.
Stir in soy sauce mixture and cook over high heat until pork is completely done and sauce is thickened and bubbly, about 3 minutes.
Serve immediately over rice.