Fiesta® Butter Dish (Post 1986)
Butter Dish Production: -

by Steve Labinski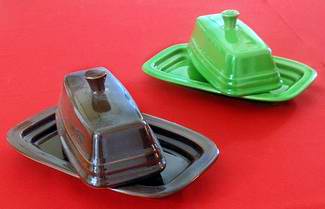 Wow! I can't believe it's not a butter dish!

Guns and Butter
HLC added the butter dish to the Fiesta line in 1992. Since then, the company has made several small modifications to the shape of the dish's base, rounding the corners. In 2012 HLC added a second butter dish to the line, larger in size, to accommodate larger sizes of butter sold in parts of the United States. After a successful run, the company announced that they would officially transition to the larger 1431 covered butter dish. On May 31, 2013, along with a handful of other items, they would cease production of the 494 covered butter dish.
The Post86 Covered Butter is item number 494 (Base 716 Lid 717).
Live auctions below. Good luck!
No items matching your keywords were found.
Texas Cooking is a proud member of the Homer Laughlin China Collectors Association If you are interested in collecting this great dinnerware, look into this great organization.

Fiesta® is a registered trademark of the Homer Laughlin China Company, Newell WV. This website and its pages are not owned by Homer Laughlin China Company. We do not pretend to officially represent the Homer Laughlin China Company. They are the official experts - not us! We are simply enthusiastic collectors and fans of the china.