"If you're gonna be a bear, be a grizzly."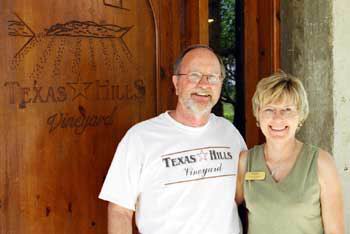 That was Gary Gilstrap's philosophy ten years ago when he pulled up stakes in Colleyville, a suburb of Dallas, and moved his wife, Kathy and their dog, Natasha, to Johnson City and opened the Texas Hills Winery. It all began with little more than a big idea and a small soil sample.
"I was driving from Austin to Fredericksburg for dinner one night and I saw a 'For Sale' sign on a fence," Gilstrap explains. "The layout reminded me of the land a friend of ours owns in Italy. I called Kathy and asked her what we were doing that weekend."
"I had never even been to the hill country before," Kathy interjects.
The Gilstraps had soil samples analyzed and were excited when the results were very positive. Gary was ready to pull the trigger but Kathy was more cautious. "I told him we couldn't just buy the first place we looked at, so we looked around a little more." That hesitation almost ended the dream of owning a winery. By the time the Gilstraps made an offer on the land it had already been sold. "We looked around some more. We even looked in New Mexico and west Texas," Gary says.
"The more we looked around," Kathy adds, "the more we liked the hill country."
Fortunately for the wannabee winemakers, the deal for the property fell through. "They called me six weeks later and asked if I was still interested," Gary laughs. "I asked them to give me four hours to get back down here with a deposit."
The deal for the land closed in October of 1994 and the Gilstraps moved in in January 1995 and started planting grapevines. "This was just a pasture the first time I saw it," Gary says, waving his hand in the direction of the 25-acre vineyard. Construction of the winery building was completed in the fall of 1998, and Texas Hills popped its first cork in the spring of 1999.
Texas Hills wines are manufactured in the Italian style, with lingering flavors that complement a variety of foods.
Gilstrap doesn't compare his wine to what is considered the U.S. Gold Standard, California wines. "California wines have gotten to the point where they're all oak. It's like they're asking, 'how much wine do you want with your oak?' They overpower food. They're too big, too hot," he explains.
"We'd never even made wine at home when we bought the place," Kathy admits. "We used a consultant in the beginning to teach us how to do it." Both the Gilstraps are retired pharmacists so it didn't take them long to understand the chemistry of blending grape juice.

Texas Hills Vineyard Award Winning Wines
"We work hard at making balanced wine that goes with food and is food friendly," Gary explains. "Not everybody is going to love our wine and, of course, everyone's going to compare it to California. But we're not California. We're our own entity and, if you enjoy the wine for what it is instead of trying to make it a California wine, you'll find that it's a very good quality wine."
The Gilstraps make 85 percent of their wine from their own grapes and enjoy seeing the reactions it gets in the tasting room. Most people, they say, come in with low expectations, considering Texas wine little more than a novelty item. That perception usually changes with the first sip.
"We get that a lot," Kathy says. "They don't expect it to be this good."
Texas Hills is open seven days a week, but sees most of its visitors on weekends when, the Gilstraps say, it's not unusual to get three or four large tour groups a day. Most of their visitors come to the winery a mile east of Johnson City on RR2766 by car. "It's usually three or four people at a time," Kathy says. "A lot of them have been here before and now they're bringing their friends with them."
The tasting room is attached to the winemaking facilities making tours convenient for visitors. The rammed-earth building is essentially an above-ground cave providing a cool environment for the massive stainless steel tanks used to age the wines.
Texas Hills Vineyard
878 Ranch Road 2766
Johnson City, TX
(830) 868-2321
Website: www.texashillsvineyard.com
Hours
Monday-Thursday

10:00am to 5:00pm

Friday-Saturday

10:00am to 6:00pm

Sunday

12:00pm to 5:00pm
Texas Hills doesn't use barrels for storage. The purpose of the barrels, explains Gary, was to let air into the wine. "Winemakers didn't know that 20 years ago. They only knew that wine stored in oak barrels tasted better. We've found that we can store the wine more efficiently in stainless steel tanks and more precisely regulate the amount of air we introduce. We can also control the oakey taste of the wine with wood chips."
Texas Hills wines have won numerous awards including gold medals for its 1998 cabernet sauvignon at the 2001 Wine Society of Texas SpringFest and its 2000 cabernet at the 2002 San Antonio Express News Wine Competition. The winery also creates award-winning merlot, sangiovese, chardonnay, pinot grigio and a variety of dessert wines.
Russ Kane, executive director of the Wine Society of Texas, attributes a portion of the winery's success to its location. "Look at the hill country. It's the closest thing we have to Sonoma or Napa (California) counties. We're where California was in the 60's. We still have the small, mom-and-pop wine boutiques they used to have. Texas is kind of the Mediterranean of the U.S. We're getting more growers working with Mediterranean types of grapes. I think Texas, in the next ten years, is going to be known for its Mediterranean types of wines."
"Texas wine is improving in quality very quickly. We have a 400-year-old wine-making heritage but only 25 years of wine making history. It's only a matter of time. This is just the tip of the iceberg. In 1996, when the wine society began, there were only 30 wineries in the whole state. Now there are more than 80. We could very easily have 150 in the next five to 10 years. That's the exciting part of it to me."
Almost as exciting as being a grizzly.
Pork Tenderloin with Rosemary Pesto
Serve with Texas Hills Cabernet Sauvignon
1 cup fresh rosemary leaves

8 garlic cloves, peeled

1/2 cup olive oil

1 tablespoon kosher salt

1 teaspoon pepper

6 3/4-pound pork tenderloins, trimmed
Process the rosemary leaves and garlic in a food processor till smooth, stopping once to scrape down sides. Add oil slowly in steady stream. Add the salt and pepper.
Spread pesto evenly over the tenderloins. Tie tenderloins together in pairs with kitchen string, making 3 bundles. Place on a rack in a broiler pan. Bake at 350°F for 40 minutes or until meat thermometer inserted into thickest portion registers 160. Let stand 15 minutes before serving.
Pork Chops with Mustard-Caper Sauce
Serve with Texas Hills Rosato di Sangiovese
1 tablespoon Extra-virgin olive oil

4 9-ounce pork loin chops (1-1/4" thick)

salt and freshly ground pepper to taste

1-1/2 cups chicken stock or canned broth

1/3 cup capers, drained

1/2 teaspoon finely chopped rosemary

2 tablespoons Dijon mustard

2 tablespoons unsalted butter
In a large skillet, heat the olive oil until shimmering. Season chops with salt and pepper, add them to the skillet and cook over moderately high heat until well browned, about 5 minutes per side. Transfer the meat to a large plate and cover with foil.
Add the stock, capers and chopped rosemary to the skillet and boil until reduced to 3/4 cup (about 5 minutes). Return the chops to the pan and simmer until cooked through (about 3 minutes). Transfer to 4 plates.
Whisk the mustard and butter into the pan juices and season with salt and pepper. Pour sauce over chops and serve.
Grilled Salmon with Mustard Sauce
Serve with Texas Hills Due Bianco
5 tablespoons of extra virgin olive oil

5 tablespoons minced tarragon

4 6-ounce salmon fillets with skin

2/3 cup crme fraiche

1/4 cup Dijon mustard

2 tablespoons prepared horseradish

salt and freshly ground pepper
Preheat grill. In a bowl, mix 3 tablespoonfuls of the olive oil with 3 tablespoonfuls of the tarragon and rub over the salmon. Let stand for 5 minutes, then season with salt and pepper and grill over medium-high heat, turning once, until crisp on the outside and just barely cooked through, 8 minutes. Transfer to a plate.
Meanwhile, in a small bowl, combine the crme fraiche, mustard, horseradish and the remaining olive oil and tarragon. Season the sauce with salt and pepper, spoon over the salmon and serve.