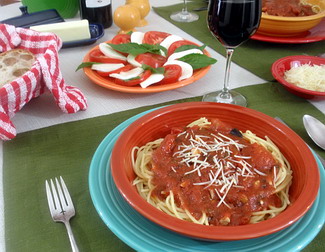 When I was growing up, the only Italian-style food we had was canned spaghetti and meatballs. I liked it a lot. Sometime in my mid-teen years, I was introduced to pizza. I liked that even better than the spaghetti and meatballs. In those days, pizza was rare in Central Texas.
But then, one day we discovered this wonderful thing -- a box at the grocery store that had everything you needed to make your very own pizza at home. The box contained a bag of dough mix, a can of sauce and a pack of grated cheese. Mama would top our pizza with hamburger and chopped onions. Just wonderful.
My research into Italian cookery has revealed that pasta is the basic ingredient. The closest that traditional Texas cooking comes to pasta is the homemade egg noodles made by the Texans of German descent.
Mama made egg noodles a couple of times, but always said they were too much work for what you got out of them. I agree with her on that point. The making of pasta is labor intensive. The packaged product is very satisfactory.
If you are the adventuresome type, you might want to whip up a batch of homemade pasta for your gang sometime.
Here's your basic pasta recipe
About 2-¼ cups All-purpose flour
1 tablespoon olive oil
1 teaspoon salt
2 large eggs
In a large bowl mix the above ingredients with enough water to make a stiff dough. Turn the dough out on a floured surface and knead it until it is smooth and not sticky. Cover the dough with plastic wrap and let it rest at least 30 minutes. Divide the dough in half. Keep the half your are not working with wrapped in the plastic wrap. Roll the dough out into a rectangle about 1/16 inch thick. Cut it into the shapes you desire.
For noodles, cut into strips about 3/8 inch wide. Sprinkle the strips with flour to keep them from sticking together and place them on a cookie sheet and cover with plastic wrap. Now you work the other half of your pasta. You can cook your pasta now or refrigerate if a day or two until you cook it.
To cook your pasta (you know how to do this) get large pot of boiling water. Cook about fifteen minutes, don't overcook it. You know about that "al dente" thing. The German Texans serve their noodles simply with only a liberal application of butter.
There are hundreds of Italian type pasta sauces. The best known and liked is the tomato-based red sauce. Italian tradition has the cook spending hours mixing and stirring and simmering fresh ingredients down into the perfect sauce. Few of us have time to spend hours stirring a pot of sauce, so most of us grab a jar or can of sauce off the shelf at the grocery store. I've never had any "bought" sauce that was really bad.
I like to make my own red sauce, though. No two pots of my sauce have ever been the same. Most have been really good, some were not all that good. My fault.
Sauces and Such
If I were to decide to make red sauce today, I would start with a stainless steel pot (cast iron cookware will darken acidic sauces). Into my pot would go some vegetable oil, about two tablespoons. Next, chopped onion, chopped bell peppers and a clove or two of minced garlic. Saut until limp but not browned.
Add a 15-oz. can of diced tomatoes and a 15-oz. can of tomato sauce. Bring the sauce to a slow simmer. It's going to be pretty thick, so you may have to add a little water as you go.
Now come the spices. I start off with about a tablespoon of home-processed dried basil, a half teaspoon of white pepper, a pinch or two of celery powder, a pinch of oregano and a sprinkle of cayenne.
I like to simmer the sauce at least 30 minutes. Longer will not hurt it, in fact it will probably improve the marriage of the seasonings, but we are up against that time thing. I stir and taste. I often find the sauce a little tart and add just a little sugar until I find the taste I'm looking for. You can experiment with other traditional Italian seasoning such as marjoram. Marjoram and basil have a similar taste so you may want to try half and half. I don't like a lot of oregano in anything. You may prefer a little more than I use. Again, experiment.
While my sauce is simmering to perfection, I cook up a batch of pasta, usually elbow macaroni. Any type of pasta except the big sizes work well with this recipe. When the pasta is done, I put it in a large bowl with some cubed Velveeta cheese. I use about a half inch thick slice of Velveeta to two cups of cooked pasta. Stir the cheese into the pasta until it is melted, and then top with your red sauce and sprinkle a goodly portion of grated hard cheese on top. I prefer the Romano to the Parmesan. Serve hot with garlic bread sticks.
The German Texans serve their noodles simply with only a liberal application of butter.
There are as many varieties of Italian cheese as there are Italians. The above recipe would be more authentic if I used Mozzarella cheese in place of the Velveeta. Again pick your favorite.
I don't do white Italian sauces as they are mostly cream and cheese, and too rich for my system. But don't let that stop you from trying them.
Back to the beginning. Spaghetti and meatballs. Use about a pound or less of good ground beef. Mix in seasonings and some chopped onions and egg and a little flour for binder and then form into 1-inch diameter balls. Fry in hot shortening until browned and done. Put your meatballs on top of a platter of spaghetti and top with red sauce and Romano.
With your basic red sauce, pasta and cheese, you can make a great variety of Italian-style dishes. Don't be afraid to experiment. You may invent a replacement for pizza, get rich and retire someplace warm where you have your very own chef on call.