Cherry Pie Filling Salad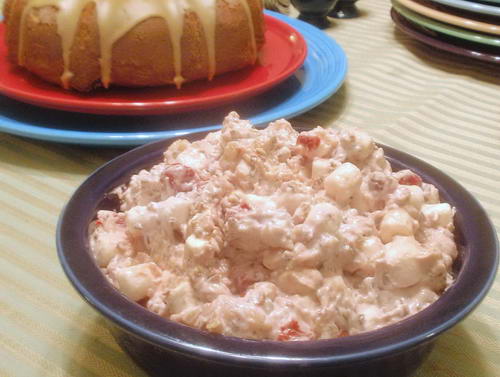 According to Sidney Carlisle, this is the one must-have item at any holiday gathering at her house. Leftover salad, if any, will keep two or three days in the refrigerator. From her article
Holiday Desserts Worth the Calories
.
Ingredients:
1 can premium quality cherry pie filling

1 15-ounce can sweetened condensed milk

1 15-ounce can pineapple tidbits, well drained

1/2 of an 8-ounce carton non-dairy whipped topping, thawed

1 cup chopped pecans

1 cup white miniature marshmallows
Preparation:
If available, use a clear glass 3-quart salad bowl.
Combine the pie filling and the condensed milk, stirring gently but thoroughly. Fold in the drained pineapple. Add the whipped topping.
Cover with plastic wrap and chill at least two hours. Just before serving, fold in the pecans and marshmallows.
Makes 10 to 12 servings.
Kitchen tools you'll need for Cherry Pie Filling Salad:
3-quart Bowl
Ready in: 2 Hrs 20 Min
Recipe editor Patricia Mitchell