Healthy Charro Beans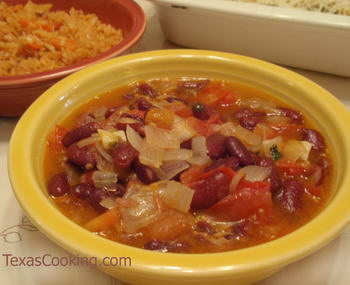 Charro beans are a tasty side dish served in just about every Austin Tex-Mex restaurant. They will also make a satisfying main dish served with warm corn tortillas or even cornbread.
Ingredients:
1/2 pound bacon (see Note)

1 medium (baseball size) yellow onion, chopped

4 ripe Roma (plum) tomatoes, chopped

1 poblano pepper, stemmed, seeded and chopped (optional, but recommended)

1 clove garlic, minced

2 15- or 16-ounce cans pinto or red beans, rinsed and drained

1 cup chicken broth

1/2 cup chopped cilantro

Preparation:

Fry bacon; remove and drain on paper towels. Drain all but 2 tablespoons drippings from skillet.
Over medium-low heat, sauté onion and tomatoes in pan drippings until onion is transparent. Add the poblano and minced garlic and cook another 3 minutes. Add beans to pan, mixing well. Add chicken broth and simmer for 15 minutes.
Before serving, add the chopped cilantro. (If you want your beans to be soupier, add a little more chicken broth.)
Makes 6 servings.
Note: If you want your Charro beans to be completely meatless, omit the bacon and sauté the vegetables in 2 tablespoons of olive or canola oil.
Ready in: 50 Min