Bourbon Balls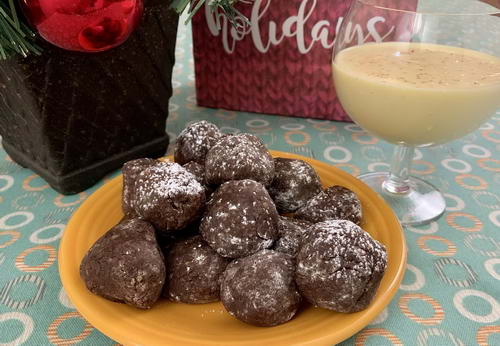 Tired of taking bourbon the old-fashioned way? These sweetmeats quite easy to prepare -- no cooking required. It's even faster if you run the vanilla wafers and pecans through the food processor.
Ingredients:
3 cups vanilla wafers, rolled to dust

3 tablespoons light corn syrup (Karo)

1 cup confectioners' sugar

1/2 cup cocoa powder

1 cup very finely chopped pecans

1/2 teaspoon vanilla extract

1/2 cup bourbon
Preparation:
Mix all ingredients together. Shape into small balls about 3/4 inch in diameter.
Roll balls in confectioners' sugar, cocoa or finely shredded coconut.
Makes three dozen candies.
NOTE: Rum may be substituted for the bourbon. Either way, these are very strong. The serving dishes in our photograph are Fiesta dinnerware.
Ready in: 45 Min
Kitchen tools you'll need for Bourbon Balls:
Food Processors
,
Mixing Bowls
,
Baking Sheet