Almond Icebox Cookies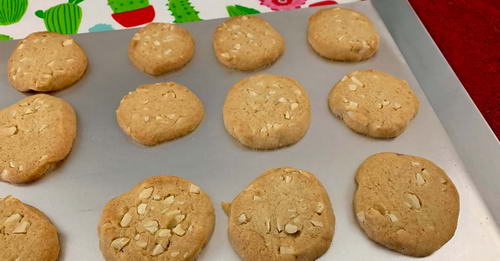 Icebox cookies are so versatile. You can bake the whole batch or just slice off however many you want, whenever you want them. The dough freezes well, if carefully wrapped, so you're never very far away from homemade cookies.
Ingredients:
1 cup (2 sticks) butter, at room temperature

1/2 cup sugar

1/2 cup packed light brown sugar

1 egg, lightly beaten

1 teaspoon vanilla extract

1/2 teaspoon almond extract

2-1/2 cups sifted all-purpose flour

1 teaspoon baking soda

1/4 teaspoon ground cinnamon

1 cup slivered almonds, toasted
Preparation:
Using an electric mixer, cream the butter and sugars until light and fluffy. Add the egg and vanilla and almond extracts. At low speed, gradually add the flour, baking soda and cinnamon. Add the almonds and mix just until they are incorporated into the dough.
Divide the dough in half, and shape each half into a 2-inch roll on a sheet of waxed paper. Roll up the paper and refrigerate for at least four hours or overnight.
When ready to bake, preheat oven to 375°F. Remove the dough from the refrigerator and, with a sharp knife, cut the dough into 1/4-inch slices. Place the slices one inch apart on greased baking sheets, and bake 12 to 14 minutes, or until lightly browned.
Makes about 4 dozen cookies.
Ready in: 4 Hr 45 Min