Our Newsletter is Sponsored By....
Cookies in the Icebox
Icebox cookies are a Southern thing, going back to the time when keeping things cold was a challenge. These are great cookies!
September is National Biscuit Month Follow all of the national food holidays on our American Food Holidays page!
Did you see last week's Chicken Tostadas?
Hey, do you follow us on Pinterest? You can find boards with pictures of our best recipes. Click to Follow Us on Pinterest.
Enjoy this Texas Cooking recipe and have a great week!
******************************
You are reading our Recipe of the Week newsletter. In 2019 our main monthly newsletter will feature brand new recipes that we add to the TexasCooking.com website. If you do not already receive our monthly newsletter, subscribe here.
If you want to read our previous Recipe of the Week newsletters, I have been making them available from a new page on our website. Look here!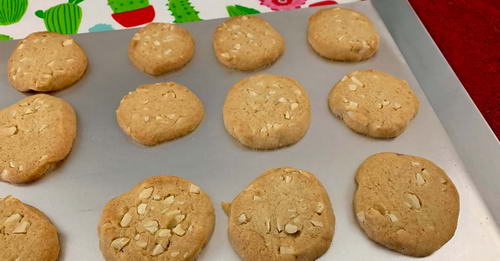 Icebox cookies are so versatile. You can bake the whole batch or just slice off however many you want, whenever you want them. The dough freezes well, if carefully wrapped, so you're never very far away from homemade cookies.
Ingredients:
1 cup (2 sticks) butter, at room temperature

1/2 cup sugar

1/2 cup packed light brown sugar

1 egg, lightly beaten

1 teaspoon vanilla extract

1/2 teaspoon almond extract

2-1/2 cups sifted all-purpose flour

1 teaspoon baking soda

1/4 teaspoon ground cinnamon

1 cup slivered almonds, toasted
Preparation:
Using an electric mixer, cream the butter and sugars until light and fluffy. Add the egg and vanilla and almond extracts. At low speed, gradually add the flour, baking soda and cinnamon. Add the almonds and mix just until they are incorporated into the dough.
Divide the dough in half, and shape each half into a 2-inch roll on a sheet of waxed paper. Roll up the paper and refrigerate for at least four hours or overnight.
When ready to bake, preheat oven to 375°F. Remove the dough from the refrigerator and, with a sharp knife, cut the dough into 1/4-inch slices. Place the slices one inch apart on greased baking sheets, and bake 12 to 14 minutes, or until lightly browned.
Makes about 4 dozen cookies.
Bonus Recipes - Pecan Refrigerator Cookies, REFRIGERATOR COOKIES: Heirloom Recipes for Modern Tastes
Lone Star List
Here are 10 things that caught my eye this week!

New Cookbooks We're Reading