Our Newsletter is Sponsored By....
Tex-Mex Bake
The weatherman says a cold front's on its way. Does meatloaf sound good? Our Tex-Mex Bake is more or less a Tex-Mex meatloaf!
Y'all enjoy! See you next week!
Did you see last week's newsletter Pecan Chocolate Fudge
→→ I WANT YOU TO Follow Texas Cooking on Instagram! ← ←
Enjoy this Texas Cooking recipe and have a great week!
******************************
You are reading our Recipe of the Week newsletter. In 2020 our main monthly newsletter will feature brand new recipes that we add to the TexasCooking.com website, as well as some old favorites. If you do not already receive our monthly newsletter, subscribe here.
If you want to read our previous Recipe of the Week newsletters, I have been making them available from a new page on our website. Look here!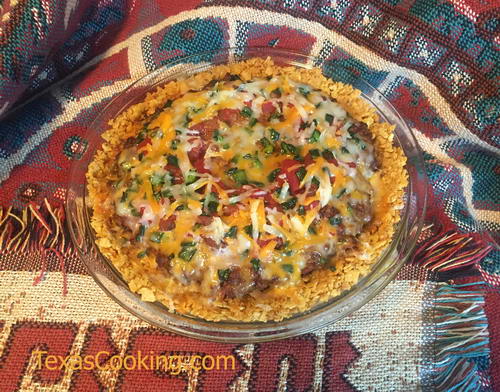 Here's an easy dish that's sure to be appreciated at the weeknight supper table or whenever hungry people gather. Double this recipe and bake it in a 9x13-inch dish, and you'll have enough for a bunch of ravenous football fans. This is a Tex-Mex dish for people who appreciate that spicy and unique fusion of Texas and Mexican cooking. A close observer of the recipe might note that it resembles a kind of meatloaf. Therefore, if spicy isn't your cup of tea, go with the meatloaf. Our Favorite Meatloaf recipe is terrific!
Ingredients:
2 cups crushed corn chips

1 large egg, beaten

2 tablespoons water

1 ¼ pounds lean ground beef (ground sirloin preferred but at least 85% lean if using ground chuck)

1 1-ounce envelope taco seasoning (like Old El Paso)

1 teaspoon chili powder

4-ounce can chopped green chiles, drained

2 fresh jalapeños, stems removed, seeded and minced

1 ½ cups grated Monterey Jack cheese, divided (or half-and-half mixture of sharp cheddar and Monterey Jack)

1 ¼ cups chunky salsa, divided (use your favorite, medium preferred)

¼ cup chopped green bell pepper or seeded poblano
Preparation:
Preheat oven to 350°F.
Beat the egg with the water and pour over crushed corn chips. With a fork, press into 9-inch pie plate. Mixture will be very sticky so place a sheet of plastic wrapo over the mixture to aid in pressing mixture evenly over bottom and sides of plate. Bake for 10 minutes.
Meanwhile, in a large bowl, break up the ground beef well with a fork. Lightly stir and fold together the beef, taco seasoning, green chiles, minced jalapeños, ½ cup of the salsa and ¾ cup of the cheese.
Mound the mixture in the prepared crust without pressing down. Top with remaining salsa and chopped green pepper or poblano.
Bake at 350°F for 50 minutes. Remove from oven and top with the remaining cheese. Return to oven for an additional 3 or 4 minutes until cheese is melted.
Mixing Bowls, Pie Baker

More: Arroz con Pollo, Carne Guisada, Tex-Mex Cheese Enchiladas
Lone Star List
Here are some things that caught my eye this week!

New Cookbooks We're Reading
Our Newsletter is Sponsored By....