Our Newsletter is Sponsored By....
Big Balls
Today's recipe is a potent sweetmeat that's perfect for a holiday party. Bourbon Balls. They are extremely easy to make - there's no cooking! You can use dark rum in this recipe instead of bourbon, if you're of a mind to.
December is National Eggnog Month Follow all of the national food holidays on our American Food Holidays page!
Did you see last week's newsletter Charro Beans?
→→ I WANT YOU TO Follow Texas Cooking on Instagram! ← ←
Enjoy this Texas Cooking recipe and have a great week!
******************************
You are reading our Recipe of the Week newsletter. In 2019 our main monthly newsletter will feature brand new recipes that we add to the TexasCooking.com website. If you do not already receive our monthly newsletter, subscribe here.
If you want to read our previous Recipe of the Week newsletters, I have been making them available from a new page on our website. Look here!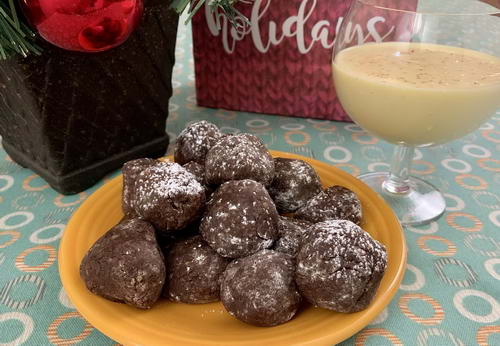 Tired of taking bourbon the old-fashioned way? These sweetmeats quite easy to prepare -- no cooking required. It's even faster if you run the vanilla wafers and pecans through the food processor. Bourbon Balls are deceptively potent, so advise your guests to pace themselves, otherwise you will be in for a most convivial evening.
Ingredients:
3 cups vanilla wafers, rolled to dust

3 tablespoons light corn syrup (Karo)

1 cup confectioners' sugar

1/2 cup cocoa powder

1 cup very finely chopped pecans

1/2 teaspoon vanilla extract

1/2 cup bourbon
Mix all ingredients together. Shape into small balls about 3/4 inch in diameter.
Roll balls in confectioners' sugar, cocoa or finely shredded coconut.
Makes three dozen candies.
Food Processors
,
Mixing Bowls
,
Baking Sheet
More cool party recipes: Albondigas Meatballs Appetizer, Cocktail Smokey Links, Red Salmon Dip.
Lone Star List
Here are some things that caught my eye this week!

New Cookbooks We're Reading