Our Newsletter is Sponsored By....
Sangria Summer
During the hottest point of the Summer is when we most enjoy drinking ice cold wine. Here's a fine sangria recipe, and its perfect for oudoor parties. Don't overlook using the Paula's Texas Orange liqueur. I was chatting with a friend this week about orange liquers, and he'd not heard of Paula's.
Enjoy!
Did you see last week's newsletter Lemon Icebox Pie?
→→ I WANT YOU TO Follow Texas Cooking on Instagram! ← ←
Enjoy this Texas Cooking recipe and have a great week!
******************************
You are reading our Recipe of the Week newsletter. In 2021 our main monthly newsletter will feature brand new recipes that we add to the TexasCooking.com website, as well as some old favorites. If you do not already receive our monthly newsletter, subscribe here.
If you want to read our previous Recipe of the Week newsletters, I have been making them available from a new page on our website. Look here!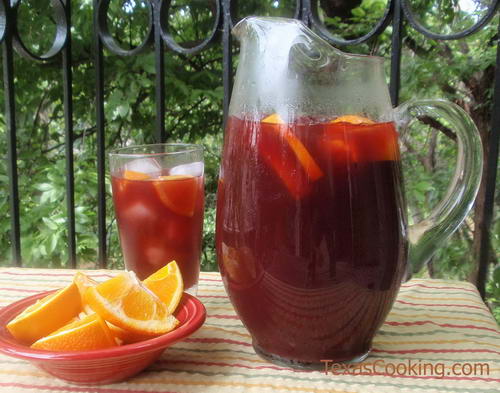 This is a nice alternative to red or white sangria. For this recipe, I personally buy a big 1.5 liter bottle of St. Genevieve Red Wine, which is widely available if you live in Texas, and quite inexpensive. Otherwise any dry red wine will do. The orange juice and the sugar make this sangria flavorful and sweet, but not overpowering.
Ingredients:
1 medium orange

1/4 cup sugar

2 cups orange juice (freshly squeezed is best)

1 bottle of dry red wine

1/2 cup Paula's Texas Orange liqueur or Cointreau
Preparation:
Cut the orange in half. With a vegetable peeler, cut off the thin outer peel of one of the orange halves, avoiding the white layer beneath it. Slice the other half of the orange; use for garnish.
In a bowl, using a spoon, mash the sugar into the orange peel so the sugar absorbs the oils. Stir in the orange juice, wine and Cointreau. Cover and chill for 15 minutes.
Remove the orange peel with a slotted spoon or strainer. Chill well. Serve sangria in a pitcher, garnished with reserved orange slices. Add ice cubes to individual servings, if desired.
Makes 6 one-cup servings.
Note: Drop in some sliced strawberries and mangos, too!

More:

Kitchen tools you'll need :

.....
Lone Star List
New Cookbooks We're Reading
Our Newsletter is Sponsored By....