Fiesta® A.D. Cup and Saucer (Ring Handle) (Post 1986)
A.D. Cup and Saucer (Ring Handle) Production: - present

by Steve Labinski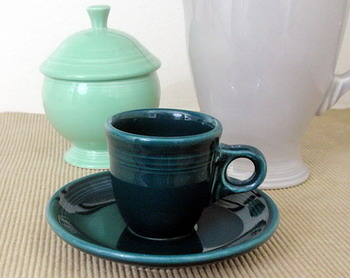 "Wait! Where are you going? I was going to make espresso."

Tempest in a Tea Cup
After phasing out the stick handle cup and saucer set, HLC replaced it with the more traditional ring handle version. The A.D. Cup and Saucer set went into official production in 1998 when pearl gray was introduced. Ring handle cups exist in chartreuse "unofficially."
These small two and a half ounce cups are for sipping after dinner beverages like strong coffee.
The Post86 A.D. Cup and Saucer (Ring Handle) is item number 807. (Cup 549 Saucer 477)
Collectors and sellers sell Fiesta A.D. Cup and Saucers online every day. Check here for the current list of auctions and Buy It Now specials. This list below combines both the stick handle demitasse and the ring handle cups.
Texas Cooking is a proud member of the Homer Laughlin China Collectors Association If you are interested in collecting this great dinnerware, look into this great organization.

Fiesta® is a registered trademark of the Homer Laughlin China Company, Newell WV. This website and its pages are not owned by Homer Laughlin China Company. We do not pretend to officially represent the Homer Laughlin China Company. They are the official experts - not us! We are simply enthusiastic collectors and fans of the china.