Azuca Nuevo Latino - San Antonio
by Randy Lankford
Advancing the Wow Factor
Rene Fernandez has a simple approach to cooking. "I cook for the 'Wow!' factor." It's an attitude he developed early, growing up in Mexico City.

"My mother worked when I was a child and I was the oldest so it was my job to prepare dinner or at least heat up the food from the day before for my brothers. Cooking was a chore. It was something I had to do, not something I did for fun. What made it fun was the look on my brothers' faces when they tasted what I had made. That look of surprise and pleasure is what I enjoyed."

Fernandez now gets to enjoy that look from his open kitchen at Azuca, the Latin restaurant he owns in the historic San Antonio King William district where he still cooks for the "Wow!" factor.

"As far as money goes, I'm probably one of the lowest paid chefs in San Antonio. I get my payment from the looks on the faces of our patrons."

Azuca is Spanish for sugar. Fernandez says Cuban entertainer Celia Cruz used to shout it to her audience during her performances to energize the crowd. The restaurant certainly lives up to its invigorating namesake. With an attached art gallery, tango and flamenco dancers and live music, Azuca is a high-energy atmosphere and not the place for a quiet evening. At least not on the weekend.

"There's always something going on," laughs Fernandez. "We offer the entire Latin experience. Lots of passion. Lots of excitement. The atmosphere matches the food. It all goes together. We want everyone to enjoy the entire Latin lifestyle from Patagonia all the way to Mexico. It's a carnival."
Azuca Nuevo Latino

713 S. Alamo Street

San Antonio

(210) 225-5550

www.azuca.net

M-Th: 11 a.m. - 9:30 p.m.

F-Sa: 11a.m. - 10:30 p.m.

Fernandez, who trained at the Culinary Institute of America and Cornell University, came to the United States in 1977 when he moved to Houston. He developed his flair for presentation as the chef garde manger at the Sheraton Hotel in Mexico City. He has also worked in the Tropicana Hotel in Manaus, Brazil and then the Hyatt in Acapulco where he was sous chef for three years. The Chihuahua native then moved on to Guatemala where he became the executive chef at the Westin Camino Real. He spent 17 years in the Hyatt chain, finishing his career at the Hyatt Hill Country Resort. After a brief transitional period at the Austin Country Club he returned to San Antonio to open Azuca with his partner, Pierre Kranzle.

The decision was good one. The restaurant was named one of the Top 50 Hispanic restaurants in the U.S. by Hispanic Magazine in 2004. It was also chosen as one of San Antonio's Top Ten by the Concierge Association.

The menu is described at Nuevo Latino, a far cry from the traditional beans, rice and enchiladas. "There's no ethnic food on the menu," says Fernandez. "Nuevo Latino means we cook in a Latin style. We use ingredients from Latin America combined and prepared in a unique style. We offer plates full of color and freshness. Lots of vibrations. Lots of exoticism."

Fernandez reaches that exoticism through liberal use of fresh and unusual ingredients like taro root, plantains, yuca, malanga and white yams. Dishes combine traditional Latin ingredients with contemporary techniques and presentations.

"Pierre and I wanted to create something unique," he explains. "We didn't want to open another Mexican restaurant, San Antonio is a Mecca for Mexican restaurants. We didn't want to open an American restaurant since I wasn't born in America. We put all our efforts into combining Latin food, Latin drinks, Latin art and Latin music."

Azuca takes up two buildings, one a former paint store, with the restaurant on one side of a plant-lined walkway and the bar on the other. The tropical layout fits well in the artistic heart of San Antonio. Original paintings, including some by blind artist Lisa Fittipaldi, and elaborate blown glass sculptures decorate the vibrantly painted interior. Luxurious patio dining is also available for those who want to watch the city's creative community in motion.

Fernandez's creative flair makes him a better employer than employee. "I love being my own boss," he chuckles. "I'm a horrible employee. I get in trouble easily. I listen to smart people but not to people who aren't so smart, even if they're my boss." On the flip side of the coin, the chef says being the boss has the expected problems. "I have to put up with all the other stuff besides food. The taxes, permits, licenses. That sort of stuff."

Fernandez and Kranzle have already branched out to a second location with Zucchero, dedicated to contemporary Italian dishes, and have plans for a more traditional Mexican restaurant called Pason. "It's going to be contemporary Mexican," Fernandez promises. "Not just enchiladas. All the flavors and ingredients Mexico is famous for."
Tortilla Soup
1 pound corn tortillas, chopped
16 ounces crushed tomatoes
1 yellow onion, chopped
2 fresh jalapeño pepper
salt and pepper to taste
3/4 cup corn oil
1/2 cup chopped garlic
1 tablespoon ground cumin
1 gallon chicken stock
1/2 pound julienne yellow onion
1/2 pound bias cut green zucchini
1/2 pound bias cut yellow squash
1/2 pound julienne green bell pepper
grated cheddar cheese
cilantro sprigs, chopped
avocado, sliced
cooked chicken breast, julienne
tortilla pieces, fried crisp
Heat oil in skillet until hot. Add tortillas and fry until crispy. Add tomatoes, garlic, onions, cumin and jalapeños. Sweat (cover and cook) until tender. Add chicken stock and cook 45 minutes to 1 hour. Puree in blender or with the portable mixer. Add salt and pepper to desired taste. Add the cut vegetables and simmer for about 15 minutes. Serve hot and garnish, as desired, with cheese, avocado, chicken, cilantro and fried tortilla strips. Makes 1-1/2 gallons.
Yellow Fin Tuna Ceviche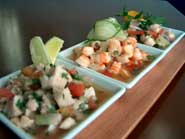 Diced Tuna Marinated in Sour Orange Juice with Jicama, Tomato & Green Mango
1 pound sushi-grade tuna cut in 1/2-inch dice
5 ounces diced jicama
5 ounces diced tomato
1 cup diced green (unripe) mango
1/2 cup diced yellow onions
1 sprig cilantro, chopped
4 serrano peppers, chopped
1/2 cup salad oil
salt and pepper to taste
1 quart sour orange juice
1 cup fresh lemon juice
Cut sushi-grade tuna in small pieces, and marinate in the refrigerator in sour orange and lemon juices for 4 hours. Stir the fish every hour allowing juice to marinate the fish all around (juice will become thick). In a non-reactive metal bowl, mix all the solid ingredients. Add the oil, a cup of sour orange juice, and the salt and pepper to taste. Drain the fish and rinse thoroughly through cold water. Gently fold the fish into the rest of the ingredients with a rubber spatula, being careful not to further break the fish pieces. Chill for another half hour. Serve with fried Yuca chips.
Additional resources: