Hot Toddy Recipes
by

Trish Bales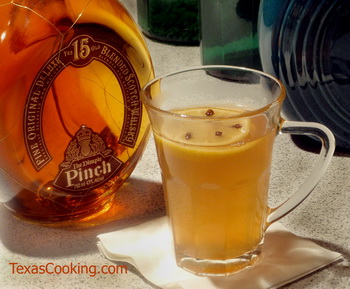 It's still winter out there-cold and dark. But I know of a fine way to keep warm -- a hot toddy.
I know the name is old-fashioned, but don't let that bother you. Our elders knew the medicinal benefits of a hot toddy. We recognize the benefits of this age-old classic and enjoy the taste at the same time. The combination of inner warmth and flavor a hot toddy provides inside cannot be matched by any other concoction I know of.
In cold, European climates, hot drinks are common in pubs, bars and restaurants. For centuries, village pubs and taverns featured a central fireplace where customers could come in to take the chill off. They served their shivering clientele mulled wine, warm ales, liquor-enhanced coffee drinks and warm scotch whiskey punches. When immigrants arrived along the eastern seaboard, they brought with them the tradition of consuming warm drinks rather than cold ones.
Toward the end of the nineteenth century, the prohibition movement was gaining strength. One of the most prevalent and powerful churches of America took a staunch position against the sale or imbibing of ardent spirits "unless in cases of extreme necessity". Well, I would imagine that for some, and under certain circumstances, the hot toddy was an extreme necessity.
More Beverages
There are many different types of hot drink recipes circulating around the country, depending upon where the current cold front is hovering. We get our fair share of cold weather here in Texas and when we do, we should take advantage of it by warming up our stove tops, stomachs and toes by slowly sipping a relaxing, warm toddy.
The word toddy may have originated in the East Indies in the form of "tarries", the seventeenth-century word for a drink made from fermented palm juice. Most toddies use Scotch whisky as their base. But they can be made with most spirits, as you will see in the recipes below.
Make sure the glasses you choose are heatproof and warm them before pouring in the liquids. Heatproof glasses are available in a range of sizes and styles, from cups to goblets and tall glasses for Irish coffee. But if you don't have any of these glasses, don't let that deter you. A regular old coffee mug will do just fine.
The traditional Hot Toddy was initially invented to soothe a sore throat and possibly halt a sickness coming on. Lemon juice, for its citrus and Vitamin C benefits, honey, for its throat-coating qualities, and alcohol for its relaxing and cough-suppressing traits, constitute the original Hot Toddy.
I prefer a more refined Hot Toddy recipe such as this one:
2 measures Scotch whiskey

3 measures boiling water

1/2 measure lemon juice

1 teaspoon honey (or brown sugar)

3 drops Angostura bitters

1 slice lemon, studded with cloves

ground nutmeg
Put the sugar, bitters, lemon juice, and clove-studded lemon slice in the glass. Add the Scotch and pour in the boiling water. Stir to dissolve the sugar and sprinkle with ground nutmeg. Now, that's medicine!
Fills one glass.
Prep time: 5 minutes; Cooking time: 5 minutes; Total time: 10 minutes
This spiced-rum drink came about when Admiral Sir Edward Vernon, while trying to cut costs and conserve supplies on the open sea, diluted the crew's rum with water. Eventually, the crew realized the drink tasted better served hot.
2 measures dark rum
2 measures water
2/3 measures limejuice
1 teaspoon honey (or brown sugar)
2 whole cloves
1 small cinnamon stick
Add all of the ingredients to a small saucepan and heat gently to dissolve the sugar. When hot, strain into a heatproof cup or Irish coffee mug.
Royale Coffee
Irish Coffee is the most popular hot coffee drink in the world. Of course, this drink uses Irish whiskey, but there are numerous variations. Here are a few:
1 measure cognac
5 measures hot black coffee (sweetened to taste)
1-1/2 measures whipped cream
grated chocolate
To the warmed glass, add the hot coffee and the cognac. Gently float the whipped cream on top and sprinkle with grated chocolate. Replace the cognac in the following variations with:
Tropical Coffee - 1 measure golden rum and sprinkle with cinnamon
Caribbean Coffee - 1 measure dark rum and sprinkle with chocolate
Gaelic Coffee - 3/4 measure Scotch and sprinkle with chocolate
Hot Buttered Rum
High on the slopes in ski resorts around the country, the popular hot drink is Hot Buttered Rum. Here' s a complete recipe:
2 measures dark rum
2-1/2 measures water
1 teaspoon honey (or brown sugar)
1 pinch ground nutmeg
4 drops vanilla essence
1 small cinnamon stick
1 small knob of butter
Place the cinnamon stick, nutmeg, and vanilla essence in the heatproof cup. Heat the rum, water, and sugar in the saucepan until almost boiling. Remove from the heat and pour into the cup over the spices. Put the knob of butter on top and watch it melt into the mixture.

\
English Bishop
This is a port-wine drink, made with baked oranges and served hot. Serves six.
1 large orange
12 whole cloves
2-1/2 cups (700 ml) inexpensive port wine
1 tablespoon honey
1 teaspoon allspice
2 dashes cognac (optional)
Stick the two cloves into each whole orange and bake it in the oven on low heat (300F degrees) for 30 minutes. Cut the baked oranges into quarters and put into a saucepan. Pour in the port and add the allspice, honey, and cognac if desired.
Over a very low flame, simmer gently for 15-20 minutes - do not boil or the flavor of the port will be spoiled. Serve in warm cups.
Colonial Boy
Ever heard of a tea-based toddy? Here's one certainly worth trying and guaranteed to change your experience of "afternoon tea".
5 measures hot black tea (sweetened to taste)
1/3 measures Irish whiskey
1 dash Angostura bitters
Pour the hot tea into the glass and add the whiskey and bitters.
Brown Betty
Even beer can serve as a hot toddy. It's delicious and warmly satisfying.
4 12-ounce bottles amber ale
12 measures brandy
2-1/4 cups water
1/2 cup brown sugar
1 lemon, sliced
4 whole cloves
1 cinnamon stick
1/2 teaspoon grated nutmeg
1/4 teaspoon ground ginger
In a large saucepan over medium heat, combine the sugar, lemon slices, cloves, cinnamon, nutmeg, ginger and water. Stir continuously to dissolve the sugar, and let the mixture come to the boil. Turn the heat down and let the mixture simmer for about 10 minutes. Add the brandy and the ale, then heat, but do not boil. Serve hot in beer mugs, each garnished with a slice of lemon.
Alhambra
Finally, a toddy made with hot chocolate. Maybe if dessert were skipped, this sweet drink would suffice.
5 measures hot cocoa or drinking chocolate, made how you like it best
1 measure cognac
Pour the hot cocoa or drinking chocolate into the warmed glass and add the cognac.
So take your pick. Fix yourself a hot toddy, and you won't have to sit so close to the fire.