Springtime Cakes: Two Cake Recipes
by

Eleanor Bradshaw
A tall white coconut cake is as impressive as it is good.
April is here and who can not be thinking of Spring? I'm not sure why I think of Coconut Cake in the Springtime.
Maybe it's because of the pretend grass in all those Easter baskets of my childhood. But a tall white coconut cake is as impressive as it is good. Just the sight of it will have your family and guests alike oohing, ahing and applauding your efforts.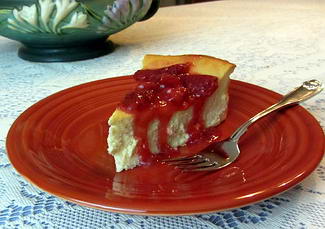 This cake begins with Grandma's Yellow Cake recipe. And it has a wonderful tart and sweet pineapple filling, fluffy white frosting and, of course, it may or may not be topped with coconut.
I always try to provide an alternative in this column. Being aware that for some of you coconut is the culinary equivalent of fingernails on a blackboard, I have included one of my personal favorites, a no-crust cheesecake, which I have named Very Special Cheesecake. Anyone who collects recipes, as I do, knows that the number of cheesecake recipes is exceeded only by the number of people who love to eat them. This cheesecake is special in its rich goodness. Make it and you will see.
This recipe makes a big cheesecake. I once served it, topped with the fresh Strawberry Glaze, to 14 ladies at a Bunko gathering. Although we (like all ladies) had been eating non-stop all evening, every rich and creamy morsel of this cheesecake was consumed.
Though not difficult recipes, these are the kinds of desserts that establish a cook's reputation and make wonderful memories of food from your kitchen.
Tips for Perfect Cakes
Shiny metal pans produce the lightest, most tender crust. Dark or darkened pans can cause uneven browning.
Use wire cooling racks. Cakes that cool on a solid surface can become soggy.
Always fully preheat your oven.
Position cake pans as much as possible in the vertical and horizontal center of your oven.
Use shortening and flour to prepare cake pans.
Allow refrigerated ingredients to reach room temperature before using.
Do not sift all-purpose flour unless the recipe calls for it. Do sift cake flour before measuring.
Accurately measure all ingredients. Cakes are one thing you just can't guess at.
Mix all ingredients well, but do not overbeat. Overbeating makes for heavy cakes.
Stagger cake pans when placed in the oven. Do not allow them to touch each other.
Do not open the oven door until the minimum amount of baking time has elapsed.
Use a wooden pick to test layers before removing from the oven. Or check for doneness by lightly touching the cake; if it springs back, it is done.
Allow cakes to cool completely before filling and frosting.
Of course, one of the biggest obstacles to a perfect cake is an oven with cool spots or a poorly regulated thermostat. If you suspect that your oven cooks too hot or too cool, buy one of those inexpensive oven thermometers and test it.
[I found that the oven in my fairly new gas range was accurate at 350°F, but a little cool at 400°F and above.]
Springtime Coconut Cake
The Cake
3 cups all-purpose flour
3 teaspoons baking powder
1/2 teaspoon salt
1 cup shortening
2 cups sugar
4 eggs
1 cup milk
1 teaspoon vanilla extract
1/2 teaspoon almond extract
Preheat oven to 375°F.
Sift together the flour, baking powder and salt. Set aside.
Cream the shortening and sugar, beating well at medium speed of electric mixer. Add the eggs, one at a time, beating well after each addition.
Beginning and ending with dry ingredients, add dry ingredients to creamed mixture alternately with milk and vanilla and almond extracts. Pour into 3 greased and floured 9-inch pans.
Bake for 25 to 30 minutes or until a wooden pick inserted in center comes out clean. Allow to cool for 10 minutes, then invert onto wire racks to finish cooling.
The Filling
1/2 cup sugar
1/4 cup sifted all-purpose flour
1/3 cup pineapple juice
1 egg yolk, slightly beaten
1 tablespoon fresh lemon juice
1/2 cup drained canned crushed pineapple
Combine sugar, flour, pineapple juice and egg yolk in saucepan. Cook over low heat until thickened, stirring frequently. Remove from heat. Add lemon juice and crushed pineapple. Cool. Makes enough to fill a 3-layer cake.
The Frosting
1-1/2 cups sugar
1/2 teaspoon cream of tartar
1/8 teaspoon salt
1/2 cup Water
4 egg whites, at room temperature
1/2 teaspoon vanilla extract
1/4 teaspoon almond extract
1 cup flaked coconut (or more according to your preference)
Combine sugar, cream of tartar, salt and water in heavy saucepan. Cook over medium heat, stirring constantly, until mixture is clear. Without stirring, continue cooking until mixture reaches 240 on a candy thermometer (soft ball stage).
Beat egg whites until soft peaks form. Let mixer continue to run and slowly pour the hot sugar mixture in a thin stream down the side of the mixer bowl (don't let the sugar mixture come into contact with the beaters. Add the vanilla and almond extracts. Continue beating until stiff peaks form and frosting thickens to desired consistency.
Assembling the Cake
Level each layer by carefully slicing off with a serrated-edge knife any high spots. If your layers are fairly level, you can skip this step. (Slicing is easier if layers are placed in the freezer for an hour or so.)
Remove any crumbs from the layers.
Center one layer, upside down, on the serving platter. Tuck waxed paper strips under the cake to protect platter from frosting. These will be removed later.
Spread the first layer with half the filling.
Place the second layer, upside down, on the first layer.
Spread the second layer with remaining filling.
Place the third layer, right side up, on the second layer.
Frost the sides of the cake liberally. Spread remaining frosting on top of cake, making sure cake is uniformly covered.
Keep a glass of hot water on hand and dip spatula into it to ease spreading the frosting. (You may not need it.)
Sprinkle top of cake with coconut. Lightly press coconut to sides of cake so that it adheres.
Remove waxed paper strips.
1 pound cream cheese
1 pound ricotta cheese
1-1/2 cups sugar
4 eggs
1/2 stick of butter, melted and cooled (4 tablespoons)
3 tablespoons all-purpose flour
3 tablespoons cornstarch
2-1/2 teaspoons vanilla extract
2 cups sour cream
Preheat oven to 350°F.
In a large bowl, cream the cheeses and sugar. Beat in the eggs one at a time, beating well after each addition. Add the melted and cooled butter, flour, cornstarch and vanilla. Beat until mixture is well combined. Fold in the sour cream and mix well.
Pour into an ungreased, 9-½-inch springform pan. Place pan in the middle of the preheated oven and bake for 1 hour. Turn off oven, leaving the cheesecake in for another 2 hours. Let cake cool completely in pan and then chill in refrigerator for at least 2 hours. "Spring" the pan, remove the cake and garnish with berries or Strawberry Glaze, if desired.
2 cups fresh strawberries, washed, hulled and halved, divided
1 cup sugar
1/4 cup cornstarch
1/4 cup Grand Marnier (or other orange-flavored liqueur)
Mash 1 cup of the strawberries (save your prettiest strawberries for the unmashed portion). Combine mashed and unmashed strawberries, sugar and cornstarch in a saucepan. Cook over medium heat until thickened, stirring constantly.
Stir in Grand Marnier; cover and chill.
Makes about 1-1/2 cups.